Project
Webdesign en webdevelopment
Delivered
Multisite website with Craft CMS
Space for the new field is an initiative of the industry organisation to draw more attention to all the beauty arable farming has to offer our country. With playful illustrations and bright colour areas, PixelDeluxe provides a beautiful website that neatly matches the style of the campaign's posts and videos. From now on, BO-Akkerbouw can continue its campaign from a central point and visitors can easily follow all developments.
View the website
Multisite
Space for the New Field is a multisite solution. Which means that this different-looking website is linked to BO-akkerbouw's cms and can also be edited from there. This keeps the number of accounts limited and making changes within both websites a breeze.
Scroll-to
A campaign website needs to convey its message concisely and powerfully. We therefore built a one page website with scroll-to functionality. The different sections on the page can be reached quickly by clicking on the titles in the menu, the website then scrolls to the right place automatically.
Flexible
We also designed the website so that the content is very flexible and that we can quickly adjust the structure and design. This allows us to take into account any future campaigns. So if a new campaign is set up, we can adapt the website to it in relatively few steps.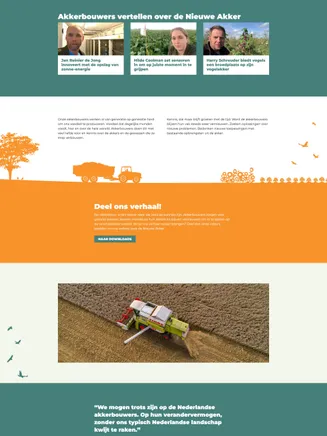 Are you, like BO-Akkerbouw, looking for a strong campaign website?