Benefits of Craft CMS
As CMS, we use Craft CMS. This versatile and user-friendly system is a stable basis for a website such as this one. Craft is a customized system and is set up by us per website according to the wishes of the customer. In this way, we can make the website as user-friendly as possible at the back end as well, making it easy for you to keep it up to date.
Beautiful and easy to use content management system.
Website loads lightning fast due to advanced caching.
Images are automatically resized to the desired size.
Each type of content has its own section where fields are customized by customization.
Easy database backup.
Easily view and restore history of changes in entries.
A live preview to instantly see what it will look like while populating.
Entries can be created as drafts first and put live only after approval.
Support for publishing workflows so multiple people can create, modify or validate content before it goes live.
Websites are optionally easy to create and manage multilingually, without additional plugins.
Matrix fields allow the creation of building blocks by page type, which makes various types of content easy to populate and display.
The website is also easy to maintain via your mobile.
License CMS, updates and plugins
The Craft CMS requires a one-time license and an annual update fee.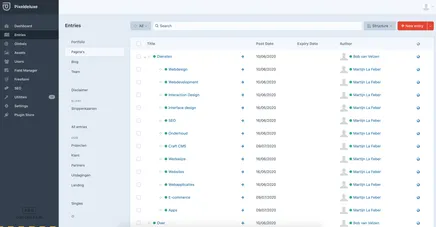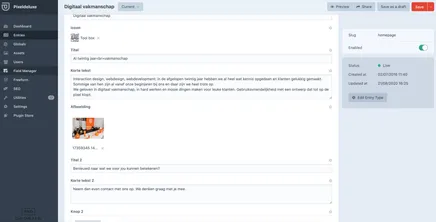 Modular
The system we use is very good modularly expandable with new functionalities. Therefore, should new functionalities be desired in the future, they can be added.
Responsive
We make the design responsive, which means that the design of the website automatically adapts to the size of the screen on which it is viewed. So on a desktop, the website will have a different appearance than on a mobile or tablet. In terms of appearance, the website will remain the same, but in terms of positioning and subdivision, the different views on the different devices will be optimized in a well-thought-out way. This makes the website usable on all common devices and a separate mobile version of the website is not necessary.
Have you become interested in a product with Craft CMS?
Please contact us and we will look at the possibilities.