Delivered
Multisite solution in Craft CMS 3
PixelDeluxe, together with MatZwart and Kirsten Fabels, developed a multisite solution for ProDelta, housing several multilingual websites in one central CMS. Each website has its own domain name. Among other things, the various operating companies of ProDelta and the crane rental company Hovago can be maintained via a single Craft CMS.
View the website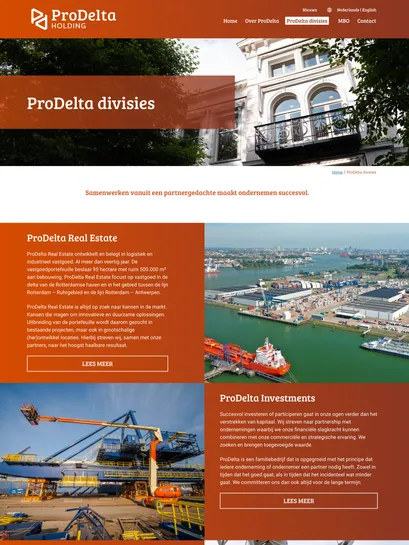 I am so happy with you guys. What wonderful websites they have become.
— Leonique van Prooijen, ProDelta
A close-knit project team
Together with them and the passionate people at ProDelta, we achieved a final result that we are very proud of together. Our partner MatZwart did all the video, photography and editing for these websites. Kirsten Fabels created the beautiful designs and we helped with the concept and then did the technical development of these multilingual websites.
Since 1946
Just after the war, this family business was founded by Mr Baris. A household name in Rotterdam and the surrounding area. They sold American trucks left behind by the Allies after the liberation. In various places in the Netherlands and abroad, the rubble had to be cleared and they provided the equipment, such as trucks, bulldozers and cranes. Later, real estate and investment subsidiaries were added.
Various extras
We created a solution for the various websites where the homepages feature beautiful videos with text over them. We also developed a filter component in which various objects can be filtered and browsed. This information can then be exported to a nicely formatted PDF, eliminating the need to develop separate sheets.