Project
Webdesign en webdevelopment
Delivered
Responsive website in Craft CMS 3
Our partner Dat Merkje asked us to develop a multilingual website for dance company Vloeistof. We designed and realised a modern, clear website in which all information is beautifully presented and easy to maintain.
View the website
About Vloeistof
Vloeistof is a dance company that mostly does its performances in everyday environments, such as on the street or in other locations. By doing the performances here, a normal place suddenly becomes a special environment where special things happen that leave a big impression.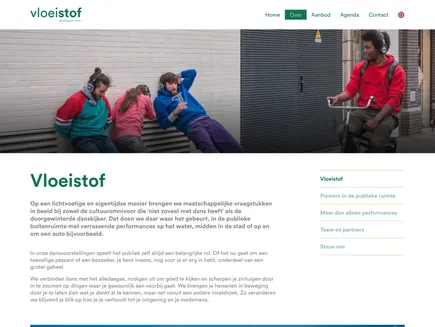 Great that we can put everything in the website and our images come out super nice.
— Yuri Bongers en Anja Reinhardt, Vloeistof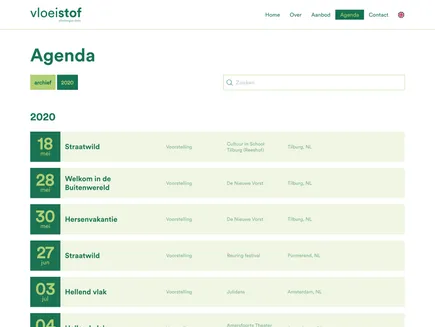 Our solution
The website is laid out according to a clean pattern with a stylish colour palette and eye-catching components, each with its own design, which together show a neat image on every page.
Vloeistof's entire offering is clearly laid out. You can see for each performance who is performing and where and when. You can see this at a glance via the agenda and you can also filter by type of performance.
Already curious about what we can do for you?
Feel free to contact us, and of course with no obligation.