Delivered
Bilingual e-commerce website in Craft CMS
CBE Languages is a company specialized in providing language lessons in English and Dutch. Expats, people coming to live in the Netherlands or emigrating or students can improve their language skills.
View website
The challenge
CBE Languages asked us to develop an e-commerce website where prospects can self-test their level and then be graded for a certain level and then order it themselves via iDEAL or credit card.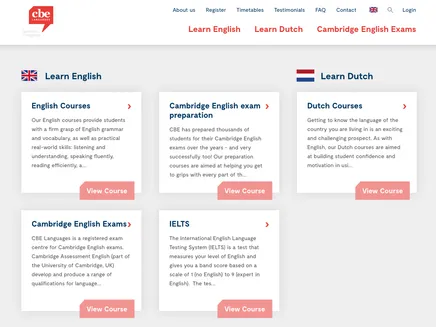 Choice Guide
Website visitors are helped to make their choice by using convenient choice aid tiles in the website. Thus, they are taken through a flow that results in conversion.
We are very happy with the website. We have more customers purchasing more.
— Emma Gill, director
The solution
The website was created in Craft CMS 3 with Commerce. The people at CBE can keep track of exactly which customer bought which product. This gives a lot of streamlining in the process with all the positive consequences that come with it.