Delivered
Website with Craft CMS in 3 languages
One of the Netherlands' most charming museums can be found in Leiden: the Japan Museum Sieboldhuis. We created their website in the past and were now asked to design and realise a new website for them. Responsive and multilingual.
View the website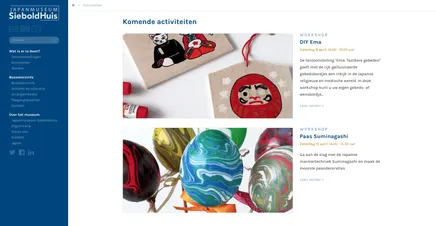 The question
It is not every day that you are asked to make sure that a Japanese version of a website can also be made... but at The Sieboldhuis, of course you can expect it! No problem.
Apart from this separate section, the website as a whole should also have a Japanese look and feel. A clean design, in line with the museum. The website has to be user-friendly and well-organised, both for visitors and museum staff. After all, they are going to maintain it themselves. In three languages!
The solution
The Craft CMS has the solution to The Sieboldhuis key questions, as its multilanguage tool makes it ideal to maintain websites in different languages from one CMS.
Using the content builder, staff can build pages themselves that always stay in line with the overall design. Maximum freedom while maintaining the design!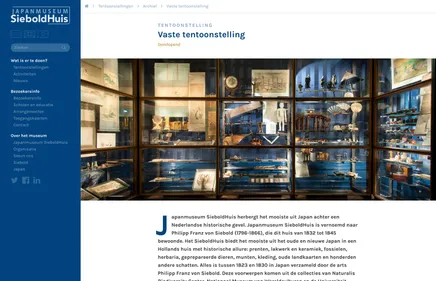 Modern and with a Japanese touch
— Marjolijn Goos, SieboldHuis
The result
Combined with the beautiful imagery the museum has on hand, the website is a gem to visit. The website is open, transparent and clean, just like the Japanese culture. With the various Japanese ornaments, the website really is an extension of the beautiful museum.
The website is available in three languages: Dutch, English and Japanese. It is easy to fill in content per activity, exhibition or news item. The images can be filled once for all languages, while the texts can easily be placed per language.
We designed several content blocks, which can be used by the staff members themselves when building the various pages. This way, the overall design of the website always remains intact, while the pages can be designed in various ways. With a text block, an image block, a photo carousel block or a quote block, beautiful pages can be built very easily and quickly.
Of course, the whole design is responsive, so that the website is easy to use on any screen. More than half of all internet traffic now goes via mobile devices and Google rewards websites that are also easily accessible and usable on mobile.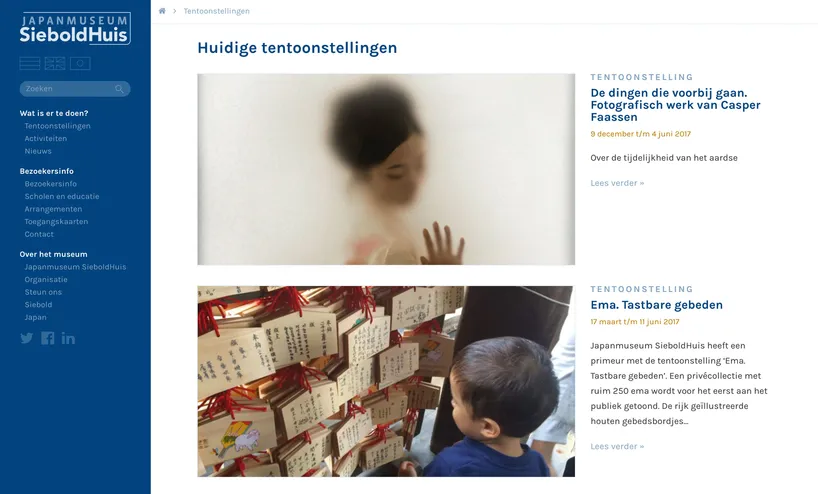 Do you have the ultimate challenge for us?
We will gladly work with you to find a solid solution.