Delivered
Responsive website met Craft CMS
Herberg Tiengemeten is a hotel, restaurant and campsite on the smallest inhabited island in the Netherlands, in the middle of the Haringvliet. As the entire island has only a handful of residents, it is a wonderful place to unwind. The website is the Inn's main communication tool and is also used for reservations.
View the website
The question
The current website, which we were also commissioned to create for the Inn, was now in need of a thorough refresh. Moreover, mobile was not really important when this first website was made, but that has changed in 2017. High time for a responsive website, then!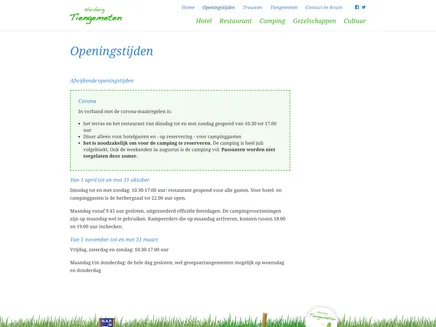 We have noticed that since the new website, we have had more bookings
— Hans and Maya, Herberg Tiengemeten
The solution
Since the Inn already had a well-visited website, the owners therefore also knew which sections worked well and what they would like to have changed. In consultation with them, we therefore created a plan for the design of this new site.
It remains essential for us to have a good conversation with the people behind the company, because they tell the story that needs to be reflected in the website.
Based on this plan, we redesigned and technically realised the website. Of course, we used the user-friendly Craft CMS for this. After a brief introduction to the CMS, Maya and Hans were able to fill their website entirely by themselves. It is very important for them to be able to make quick adjustments to their own website, without having to perform awkward actions. After all, they have a hotel, restaurant and campsite to run!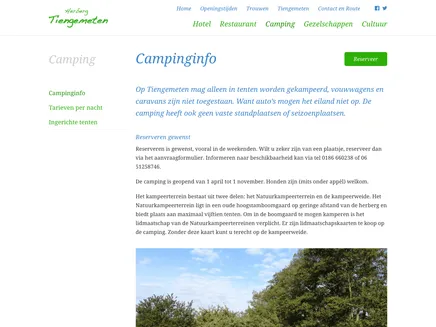 The result
It has become a clear, attractive website that makes the Inn stand out again. Thanks to the good texts and beautiful images, it is a picture to look at and certainly invites you to go to beautiful Tiengemeten. For a day... a night... or even a short holiday!
Also interested in a website like this one?
Feel free to contact us, and of course with no obligation.