Project
Webdesign and webdevelopment
Delivered
Website with Craft CMS
Association Akkerbouw asked us to design and develop a new website for them based on an existing house style. In consultation with the designer of their house style, we set up a nice design for the website. As always, we paid a lot of attention to pixel-precise transfer of the design into the final result.
Check the website
The question
The request was to develop a website that was free to use and easy to modify or add to yourself. A module was developed with topics automatically displayed as clickable circles. These are built based on the number of subpages that fall under this section.
Knowledge base
Similarly, there was a desire to add a Knowledge and Innovation section to the website that would be easy to use for BO Akkerbouw's target groups. For example, visitors can easily find the right project from a list of projects BO Akkerbouw has done. Using filters and sorting options, the right one is preselected within a few clicks.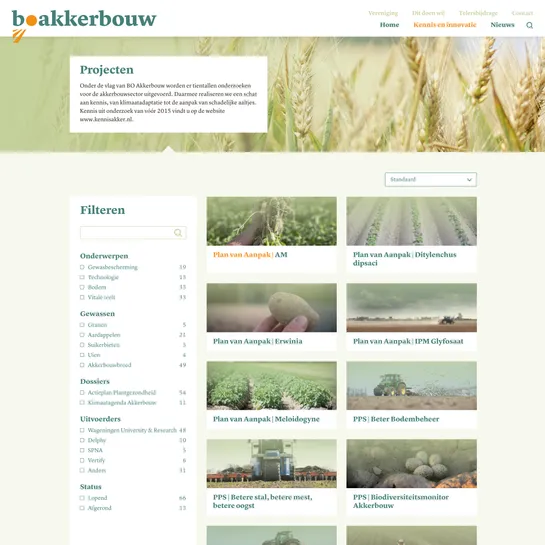 They created a beautiful design in a short time and executed it exactly like that. Very nice!
— André Hoogendijk, director BO Akkerbouw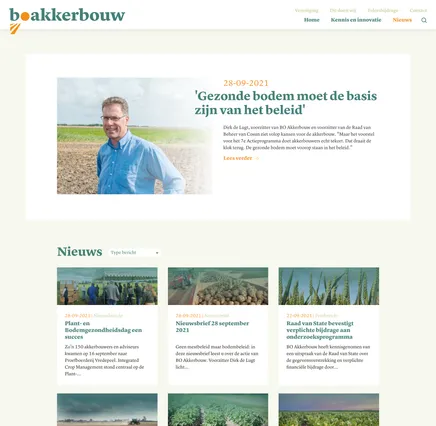 Result
The result is a beautiful and good-looking website with great imagery which makes us very proud of the final result.
Do you want such a beautiful website too?
Leave your details if we can do anything for you!