Cloud4Ukraine
Along with many hosters, cloud providers and IT companies, we have joined the Dutch Cloud Community initiative. Cloud4Ukraine offers Ukrainian cloud and hosting colleagues support so they can continue to operate. As a community, we stand for free, open and accessible internet. And together we can make that happen for Ukraine in these difficult times.
Read more about what Dutch hosters are doing for Ukraine below.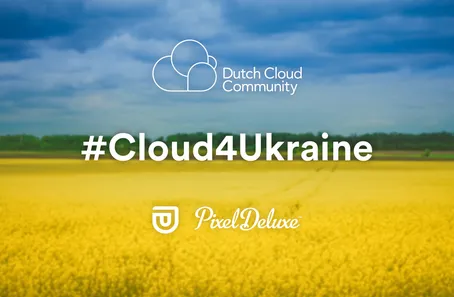 As a professional in the Internet sector, the Dutch Cloud Community knows better than anyone how important the vital infrastructure of the Internet is. If Internet services stop, a country cannot function. That's why they started the Cloud4Ukraine initiative to help Ukrainian hosters and cloud providers.
Helping Ukraine together with our expertise
Last Tuesday, the Social Responsibility working group organized a call, and the action Cloud4Ukraine was launched. Hosters, cloud providers and IT professionals, with the expertise infrastructure they have, can make an important contribution to help Ukrainian colleagues during the darkest days of their history.

Industry companies are making their infrastructure available to help colleagues from Ukraine continue operations, even when their own infra is down. Offerings include server space, backups, storage, VPSs, IP space and data center services. A broad offer, which fits the equally broad sector.

In one day, some 50 companies offered their help, giving Cloud4Ukraine immediate access to all the knowledge needed to keep the Ukrainian sector up and running. The hardest part is just getting the message to the target audience. A wide range of channels are being used to spread the offer. These include contacting Ukrainian President Zelensky and his ministers on Twitter, using mailing lists and posting to ICANN's community Facebook groups

How it works
The Dutch Cloud Community has set up a process to process applications: They first verify the legitimacy of the applicant. This is done by the NCSC and the Police High Tech Crimes Team. Then they consider what technical assistance is needed.
It is made very clear that only services are provided that are legally allowed, and no content is hosted that is not allowed by Dutch law.
When a request is completely ready for processing, it enters the Slack channel where the request is picked up by companies from the Cloud4Ukraine community. The Dutch Cloud Community then monitors the progress and helps with communication where necessary.
Your contribution is most welcome
New companies are joining Cloud4Ukraine on a daily basis. Help has also already been offered from Germany if needed. Meanwhile, the supply is so great that all the requests that have come in since last Thursday can be processed quickly. The biggest challenge in the coming days/weeks now is to ensure that the people who need help know the way to Cloud4Ukraine.

With this, everyone can help. This page contains all information about the initiative in English and Ukrainian https://dutchcloudcommunity.nl/community/cloud4ukraine/ and we would ask you to share the link via social media to get the offer to the target audience as quickly as possible.
If you would also like to join Cloud4Ukraine, please email [email protected].
As a community, we stand for free, open and accessible Internet. And together we can make that happen for Ukraine in these difficult times.